Our archive will be closed for visitors from 19th August to 16th September 2019.
Alla Leukavets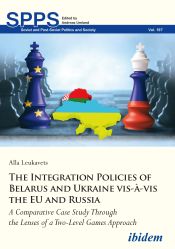 The Integration Policies of Belarus and Ukraine
vis-à-vis the EU and Russia
A Comparative Case Study Through the Lenses
of a Two-Level Games Approach

ibidem-Publishers / Columbia University Press 2019,
ISBN: 9783838212470
The escalating rivalry between the EU and Russia in their shared neighborhood creates important economic, political, and legal challenges for the lands in between. Belarus and Ukraine have received proposals of integration from both the EU and Russia. However, the extents to which they accepted these offers differ and result from a multitude of factors as well as their interplay affecting the policy choices of their governments. International integration is a foreign policy question, but it has a strong domestic dimension too. Explaining various integration stances demands considering a country's foreign and internal affairs. Alla Leukavets applies here Putnam's two-level game-theoretical approach in combination with findings from comparative neighborhood Europeanization and democracy promotion studies, as well as Levitsky/Way's linkages-and-leverage-model. She develops various actor-centered and structural explanatory variables and applies them in the subsequent empirical analysis. Her research results benefit from triangulation through primary documents analysis and semi-structured interviews with elites and experts in Minsk, Moscow, Brussels, and Washington, DC. The book analyses how the simultaneity of European and Eurasian integration challenged the two countries to make a major strategic integration choice. The study sheds light on the reasons for and genesis of the Ukraine Crisis, and on how external actors, such as the EU, can succeed in facilitating domestic reforms in Eastern Partnership countries.
Country Analytical Digests
We offer regular email newsletters with concise analyses of current affairs in Eastern Europe. All email services are produced in cooperation with leading international research institutions. Subscriptions and access to the online archives are free of charge.

» read more