Forschungsstelle Osteuropa
Die Forschungsstelle Osteuropa (FSO) ist als An-Institut eine außeruniversitäre Forschungseinrichtung an der Universität Bremen. Sie wird gemeinsam von der Kultusministerkonferenz und dem Land Bremen finanziert. Im Jahre 1982 mitten im Kalten Krieg gegründet, versteht sich die FSO heute als ein Ort, an dem der Ostblock und seine Gesellschaften mit ihrer spezifischen Kultur aufgearbeitet sowie aktuelle Entwicklungen in der post-sowjetischen Region analysiert werden.

---
Aktuelle Pressebeiträge

Russland hat sich fundamental verändert
» weiterlesen

Demokratieverständnisse der russischen Bevölkerung
» weiterlesen


 

Neues aus dem Archiv

Nachruf auf Arsenij Roginskij
» weiterlesen

Nachruf auf Christian Bergemann
» weiterlesen


Archivale des Monats
Czech Dream Book of 1988
A Letter from Karel Trinkewitz to Václav Havel. Commemorating the 50th Anniversary of the Prague Spring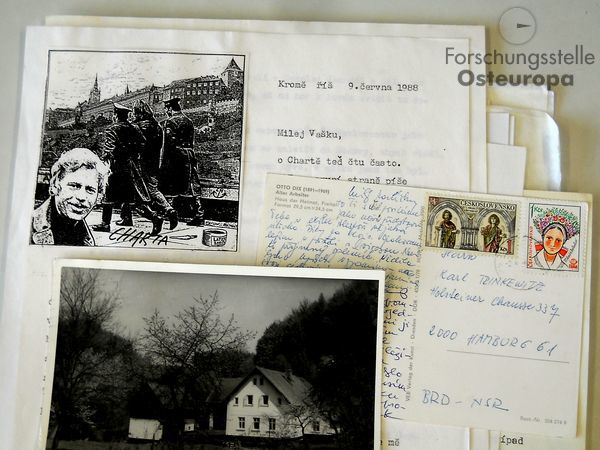 Quelle: Archiv der Forschungsstelle Osteuropa, FSO 2-060, Karel Trinkewitz, Correspondence (with Václav Havel)
Almost ten years after his emigration in 1979, Czechoslovak visual artist Karel Trinkewitz could still not get rid of his fear of being chased by secret police officers. He never forgot the brutal scenes of the Prague Spring of 1968, during the Soviet invasion of Czechoslovakia. The violence the artist witnessed then was so vivid that he could not feel safe anywhere but outside of Soviet control. Our archival document of the month is Trinkewitz' letter from 1988, addressed to playwright dissident and the first President of the Czech Republic, Václav Havel. This letter demonstrates the tremendous impact of the Prague Spring not only on Trinkewitz' own psychological state, but also for European collective consciousness.

Trinkewitz was a supporter of Charter 77, a movement against human rights violations under the Communist regime. For this he was harassed and ultimately decided to leave the country. He emigrated from Prague to the northern German city of Hamburg, where he lived until his death in 2014. Thanks to geographical convenience as well as scientific connections, the Research Centre for East European Studies at Bremen University received the letter as part of a donation from the artist's family shortly after his passing: which is now kept in the archive as the Karel Trinkewitz Collection.

The letter was written on June 9th, 1988. In the letter, Trinkewitz closely describes a dream he had the night before. The dream reflects both nostalgia for his home country and his doubts concerning contemporary political reforms, i.e. Perestroika. In the dream, he was wandering around Prague and went all the way up to the Prague castle to provoke the First Secretary, Gustav Husák in the office of Hradčany. On the way, he sang the songs of Sokol, an early 20th-century gymnastic movement founded in support of raising the awareness of the need for the ethnic integration, when all of sudden he flew over the sky and reached Moscow. There, Trinkewitz saw Soviet leader Mikhail Gorbachev about to be executed, and just before Gorbachev's head was cut off, he woke up.

After writing about the dream in detail and trying to make sense of this strange constellation of images, Trinkewitz reminded his correspondent Havel of two books concerning dreams. One was Italian author Luigi Malerba's "Diary of a Dreamer", and the other was their fellow Czech writer Ludvík Vaculík's "Český snář (Czech Dream book)." Both authors described their dreams on February 9th, 1979. Intriguingly, in both cases, the authors described scenes of violence caused by Russian officers in their dreams. Trinkewitz identified these two dreams with his latest one. It was, in his words, "a European dream" in criticizing Russian hegemony in Europe. The artist thought the region was largely threatened by the existence of Russia/the Soviet Union and that ordinary citizens' lives were at stake. Trinkewitz asked Havel to tell Vaculík about his dream, which he thought of as his version of "Czech Dream book of 1988" and that resonated with the idea of a dream experimentally capturing fragments of contemporary memory.

Trinkewitz' letter highlights the complexity of political consciousness combined with personal reflections around the late Communist period. The Prague Spring, in this context, appeared to have a long-standing psychological effect on the artist. However, what Trinkewitz anticipated—another Soviet invasion of Prague—did not occur. This was precisely thanks to those who did not give up the hope in the legacy of the protests of 1968—freedom of thought and expression, and the autonomy of Czechoslovakian society. One year after the letter was written, the country experienced a democratic transformation, and the artist even saw the collapse of the Soviet Union in 1991.
Lesetipps:
Wolfgang Schlott und Brigit Krehl: Die unerträgliche Leichtigkeit des Haiku: Der Künstler Karel Trinkewitz, Dößel 2016.

Klára Burianová: Karel Trinkewitz - O životě, Praha 2016.


Anna Nakai
Länder-Analysen
Die Länder-Analysen bieten regelmäßig kompetente Einschätzungen aktueller politischer, wirtschaftlicher, sozialer und kultureller Entwicklungen in Ostmitteleuropa und der GUS. Alle Länder-Analysen können kostenlos abonniert werden und sind online archiviert.
»
zu den Länder-Analysen