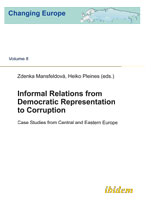 Zdenka Mansfeldová, Heiko Pleines (eds.):
Informal Relations from Democratic Representation to Corruption. Case Studies from Central and Eastern Europe
ibidem-Verlag, Stuttgart 2011, ISBN 978-3-8382-0173-3, ISSN 1863-8716
Informal relations have been one of the major research topics of the social sciences since the 1990s. In order to allow for meaningful comparisons between different combinations of the positive and negative effects of informal relations on democratic representation, all the articles in this book focus on post-socialist Central and Eastern Europe as a particular region where formal democratic rules have been established, but competing informal rules are still strong. The first section discusses a broad spectrum of related analytical concepts from different perspectives and from different academic disciplines. The second part then goes on to analyse empirical cases of the relationship between informal relations and democratic representation. The contributions span the whole continuum, as we perceive it, from civil society networks seen as supporting democratic representation to the perversion of democratic representation through political corruption. The final part of the book then takes a closer look at corruption through four case studies from Russia.
This book presents a selection of the papers discussed at the Changing Europe Summer School on 'Informal Networks, Clientelism and Corruption. Case Studies from Central and Eastern Europe' held in Prague at the Institute of Sociology of the Academy of Sciences of the Czech Republic in August 2010.