Heiko Pleines, Daniela Obradovic (eds.):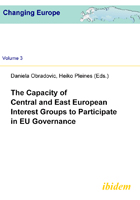 The Capacity of Central and East European Interest Groups to Participate in EU Governance
ibidem-Verlag, Stuttgart 2007, ISBN 978-3-89821-750-7, ISSN 1863-8716
The integration of ten Central and East European countries (CEEC) into the EU as part of the 2004 and 2007 enlargements poses new challenges to EU governance, as the number of countries involved has thereby increased dramatically. However, the actors coming from the new member states also face challenges as they attempt to integrate themselves into EU decisionmaking processes. This book analyses the attempts of of civil society organisations from the Czech Republic and Poland to engage in EU governance in four policy fields. The guiding question is whether civil society organisations from the Central and East European member states have (or can gain) the capacity for meaningful participation in EU governance. After an introductory part, which outlines the analytical framework and offers a review of the literature, the actors and rules of EU governance are profiled. The third and fourth parts of the book then present case studies. The case studies address the civil society organisations most actively involved in EU governance, namely typical NGOs, trade unions, employers' organisations and business associations.