7th Graduate Workshop of the Russian Art & Culture Group
Registration by September 15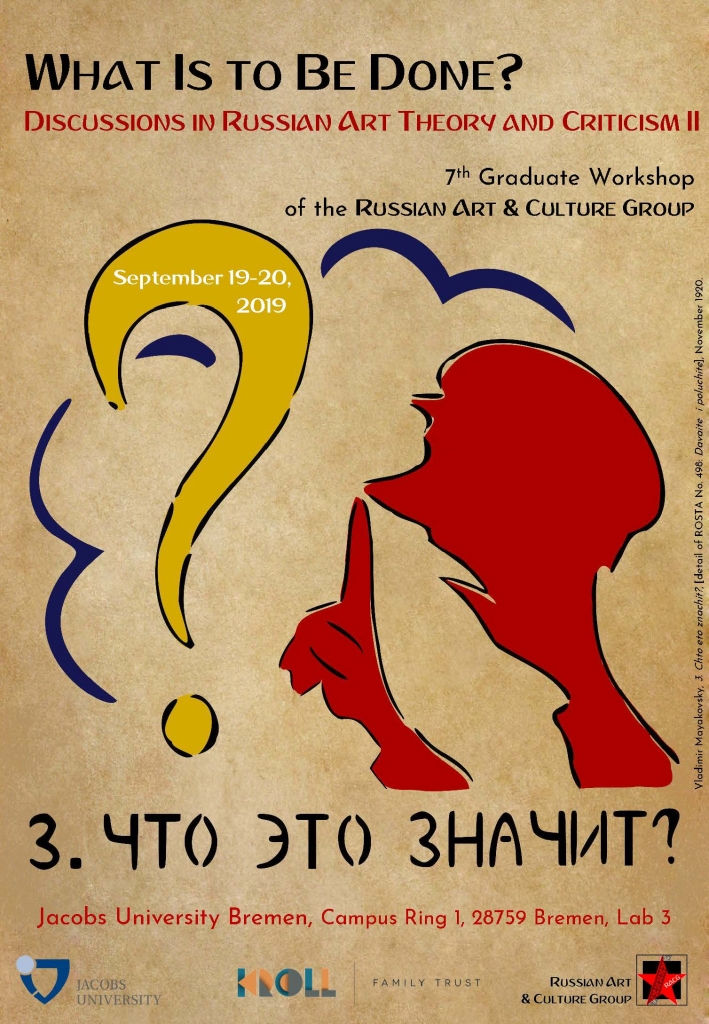 Comparing protest actions in Soviet and post-Soviet spaces
Research Project of
Prof. Dr. Heiko Pleines
and
Prof. Dr. Susanne Schattenberg
, funded by the
VolkswagenFoundation
---
Under what conditions do minor protests develop into mass events that challenge the political order of a country? An investigation of this question is particularly relevant for the post-Soviet region, where political trajectories continue to be shaped by popular uprisings. Bringing together historians, political scientists and sociologists,
Comparing Protest Actions
aims to investigate three major events of political protest and – largely neglected by previous research – their pre-history:
1) in the Soviet Union during Perestroika and in the preceding decades (starting from de-Stalinization in the 1950s),
2) in Russia under President/Prime Minister Putin with the latest mass political protests appearing in the context of elections in 2011/12, and
3) in Ukraine focusing on the Orange Revolution (2004), the Euro-Maidan (2013/14).
In contrast to the structure-oriented majority of previous research, the investigation focuses on A) key individuals and activist groups, B) the diffusion of strategies and motives, and C) the protesters' relation to dominant discourses and the existing political regime.
The team comprises junior and senior researchers as well as archival and data collection staff from the Research Centre for East European Studies at the University of Bremen, Memorial St. Petersburg, the Public Sociology Laboratory (St. Petersburg), the Center for Social and Labor Research (Kiev) and the Foundation to Preserve the History of Maidan (Kiev). In each country, one junior scholar will produce a case study as either doctoral or post-doc research project. Together, senior and junior researchers will develop a comparative analysis that places the case studies in a broader perspective.
The partner institutions hold substantial bodies of archival material and data, which will be fully indexed and enhanced through extensive additional data collection. The results will be made available to the academic community in order to strengthen the role of the partners as internationally recognized centres for research and for researchers on the topic. At the end of the project all data collections will be documented at the
Discuss Data-Platform
and - as far as possible - will also be available for download. The collection on dissident movements in the Soviet Union (digitalized documents) has been integrated into the
catalogue of the project partner Memorial
. An overview of the
collection on the Perestroika period (Alexeevsky Archive)
is presented on a separate website.
Project-related Publications:
Volodymyr Ishchenko (2019): Yielding to Nationalist Polarization: Anarchism and Marxism in the Ukrainian Conflict, in: Globalizations, accepted for publication.
Andrii Gladun (2019): Impact of repression on protesters' mobilization. The case of Euromaidan protests in Ukraine, in: Social Justice Journal, accepted for publication.
Natalya Mashtaler, Semen Gluzman, Robert van Voren (2019): Nekhaj roste! Desyat' nebajduzhikh. Usni istorii Majdanu, Kyiv: Alterpress, 272 pages
Oleg Zhuravlev, Natalia Savelyeva, Svetlana Erpyleva (2019): The Cultural Pragmatics of an Event: the Politicization of Local Activism in Russia, in: International Journal of Politics, Culture, and Society, online first, https://doi.org/10.1007/s10767-019-9321-6
Jan Matti Dollbaum, Andrey Semenov & Elena Sirotkina (2018) A top-down movement with grass-roots effects? Alexei Navalny's electoral campaign, in: Social Movement Studies, 17 (5), 618-625.
Fabian Burkhardt, Jan Matti Dollbaum (2018): Der Bolotnaja Prozess, in: Groenewold/ Ignor / Koch (Hrsg.), Lexikon der Politischen Strafprozesse.
16 April 2018.
Denial of the Obvious: Far Right in Maidan Protests and Their Danger Today, Vox Ukraine,
[also available in Ukrainian]
Dollbaum, Jan Matti (2018): Wahlkampf im elektoralen Autoritarismus. Alexej Nawalnyjs Kampagne für die Präsidentschaftswahlen 2018, in: Russland-Analysen, Nr. 347, 9-12.
Slukvin, Mykhailo (2018): Pro-Democracy in the Sheets but Less in the Streets: Social Movement Protest Alliances of Ukrainian Maidan 2013-2014, CEU Political Science Department Master Theses 2018/36, Central European University,
online access embargoed
Dollbaum, Jan Matti (2017): When Life Gives You Lemons: Alexei Navalny's Electoral Campaign, in: Russian Analytical Digest, No. 210, 6-12.
Oleg Zhuravlev, Svetlana Yerpyleva and Natalia Saveleva (2017): Nationwide Protest and Local Action: How Anti-Putin Rallies Politicized Russian Urban Activism, Russian Analytical Digest, No. 210, 15-19.
Stewart, Susan und Dollbaum, Jan Matti (2017): Civil society development in Russia and Ukraine: Diverging paths, in:
Communist and Post-Communist Studies
, 50 (3), 207–220.
Dollbaum, Jan Matti (2017): Curbing protest through elite co-optation? Regional protest mobilization by the Russian systemic opposition during the 'for fair elections' protests 2011–2012, in: Journal of Eurasian Studies, 8 (2), 109-122.
Kozlov, Dmitry (2017): Dve revolyutsii, dve sostavnye chasti politicheskogo inakomysliya epokhi "ottepeli", in: Sociology of Power, 29 (2), 153-177.
Žuravlev, Oleg (2017) "Vad blev kvar av Bolotnajatorget? En nystart för den lokala aktivismen i Ryssland", i Från perestrojka till Bolotnaja. Utvecklingen av ett ryskt civilsamhälle, specialnummer av Arkiv. Tidskrift för samhällsanalys, No. 7, 129–164.
Kozlov, Dmitry (2017): Review of Kathleen E. Smith, Moscow 1956: The Silenced Spring, in: Ab Imperio 18 (4), 335-343.
Kozlov, Dmitry (2016): Mezhdu skrytym i publichnym: protest v poslevoennom SSSR, in: A.S. Arkhipova, D.A. Radchenko, A.L. Titkov (eds): Gorodskie teksty i praktiki. Tom I: Simvolicheskoe soprotivlenie, Moscow: Izdatel'skiy dom «Delo» RANKhiGS, 47–56.
Country Analytical Digests
We offer regular email newsletters with concise analyses of current affairs in Eastern Europe. All email services are produced in cooperation with leading international research institutions. Subscriptions and access to the online archives are free of charge.

» read more